LOBSTERS & OYSTERS COMING JUNE 30th & JULY 1st...
We are enjoying our time in Maine and thinking about how we can 
share what we love here with all of you! Of course, the views I've attached
are a big part of it, but so is the SEAFOOD! We are going back to
PRE-ORDERS ONLY!
PRE-ORDERS DUE BY SATURDAY, October 24th!!!
First, we need to address the fact that with the weather getting colder, 
deck seating will be very unpredictable. So, after much consideration, we've 
decided that we will have to go back "To Go" only.  If we get a lovely day, you 
would be welcome to enjoy the deck during our regular business hours with your "to go" food. 
There are too many studies coming out regarding dining in, so for your health and ours we will not be offering inside dining.
Our new hours are:  Thursday/Friday 12-5
                                  Saturday/Sunday 9-3
***To Go and Shopping in our Company Store***
 Seafood Specials (October 29th-31st & November 5th-7th)
October 29th-31st

 

ONLY

(Thursday-Saturday)
Damariscotta Oysters                                $25.00 per dozen
Oyster Knife                                                $3.00 each
Les Allies French Brut Champagne            $14.00
These will be raw, farm raised oysters from the Damariscotta River.  According to Brian, an avid oyster
fan, these are amongst the best.  Oysters from New England are very different from oysters to the south
in taste and texture.  And, shucking oysters could become a new hobby for you during this extended pandemic :-)
We're also offering our favorite beverage with oysters on the half shell a lovely French Champagne.  It would
be great to have around the holidays, so feel free to order more than one bottle!
Lobster Roll                                                $22.50
(1/4 lb claw, knuckle & tail lobster meat served with chips and coleslaw)
GREAT WINES, GREAT PRICES!
Lab Vinho Verde Rose                                $12.00
(Previously offered and still stellar with lobster rolls!)
TOPO Tinto Red Blend (Portugal)              $14.00
This is quite the find! A really lovely red...perfect for the 
cooler weather and very drinkable across a variety of
cuisines.   (see attached)
***This may be the last of the "wine to go" we can offer.  We'll
know more 11/3, but order more than one if you are excited about any of them.***
As always, we appreciate your support of our small business!
You can order by email or give me a call.
susan@java-gourmet.com  978.821.5709
Take care & be well!
Susan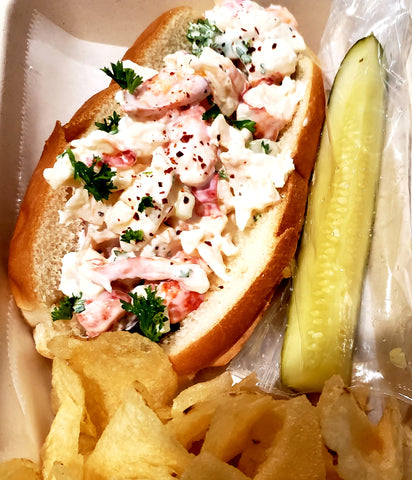 We are headed to Maine and will be traveling back with fresh, Maine Lobsters!  Nothing says summer like a Lobster Roll (in our opinion) and our first Lobster Roll Weekend over the 4th of July was a huge and delicious success :-) 
Here are the details:
 When: Thursday July, 30th - Saturday, August 1st                                                       Make a reservation on our Beautiful Deck or get your orders TO GO.                         PRE-ORDERS Only. Last Day to order Friday, July 24th!
Lobster Roll, chips & pickle      $21.95                                                                           (All Lobster Rolls contain 1/4 lb. claw, knuckle and tail meat on a buttery, grilled roll. That's ONE WHOLE, FRESH, MAINE LOBSTER!)
Suggested Wine Pairing: Dry Rose from France...we love this one and it's a perfect pairing with the lobster! La Maison de Rose 2019 :-)
PRE-Orders ONLY!
1-3 cans $7.00 each
4 Pack $25.00
(3 cans = 1-750 ml bottle of wine)
La Maison de Rose 2019, a new canned French rosé fresh from the vineyards of Provence. La Maison de Rose is an 80/20 Grenache/Cinsault blend, grown and produced at the sustainably farmed Caves du Commandeur estate. The soil composition is clay and limestone, which imparts minerality in the wine to balance the floral notes. Stainless steel tanks are used for fermentation and aging to preserve the true essence of this delightful rosé.
La Maison de Rose is a premium can offering in a convenient and portable 4- pack. The 250ml can is vibrant and elegant with striking floral details, alluding to the quality and essence of the wine within. 
TO ORDER and/or reserve a table:
Email: susan@java-gourmet.com
Call Susan @ 315.536.7843