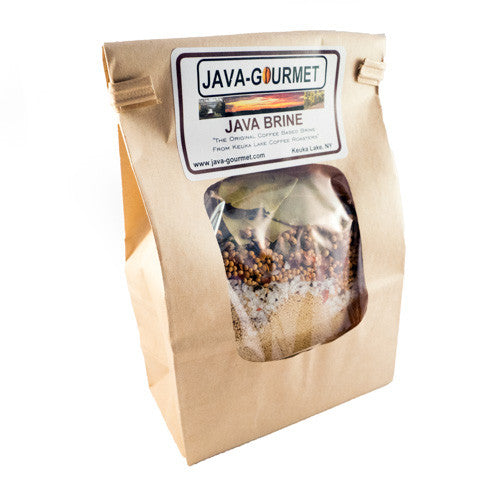 Why Brine? Brining is a simple technique of creating a moist, tender, and flavorful turkey, chicken or roast.
During the cooking process, meat naturally has a tendency to lose water and therefore can become dry. Properly brined and cooked meats can reduce the loss of moisture from your meat. Using coffee to brine brings additional culinary properties. Coffee is a natural flavor enhancer when preparing meats. Coffee also helps to create depth of flavors and imparts both smoky and nutty characteristics.
Directions For Use:
1. To make JAVA BRINE, brew JAVA BRINE BREW in 64oz. of cold water in your regular coffee maker. Once the coffee has brewed, put it into a large bowl.
2. Add JAVA BRINE SPICE BLEND and 3 cloves of fresh garlic, sliced.
3. Stir until dissolved and let reach room temperature.
4. Pour JAVA BRINE into a 5 gallon pail with your turkey (rinsed and patted dry inside).
5. Once JAVA BRINE is poured in, add water (or other liquid) to cover the turkey. *YOU MUST ADD ADDITIONAL LIQUID OR THE BRINE WILL BE TOO STRONG*
6. Let JAVA BRINE sit on turkey at least 24 hours before roasting. Keep refrigerated. Stir occasionally.
7. Roast turkey in the oven or on the grill to an internal temperature of 165 degrees Fahrenheit.
Brining Tips:
*If you are not using JAVA BRINE for a turkey, you can brew one-half or one-third of the coffee and use the corresponding amount of spices to get more than one use from your package of JAVA BRINE. Add at least one cup water to the concentrated brine before you add your chicken or meat.
*YOU MUST ADD ADDITIONAL LIQUID OR THE BRINE WILL BE TOO STRONG*
* You should also reduce your brining time to no more than 12 hours for meats other than whole poultry*
*You can add more flavors to your brine by adding citrus slices or fresh herbs to the brine when steeping.
*Adding fruit juice (apple cider is especially tasty), beer, or wine for part of the water will also add additional flavor.
*The coffee, herbs and spices tend to settle when sitting in the brine. So, stir occasionally and rub some of the spice mixture onto your meat prior to cooking.
*Besides oven roasting or grilling, smoking a brined turkey or other meat produces a great end result.